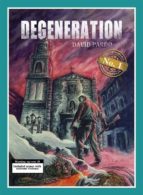 DEGENERATION

EBOOK
Formato:

EPUB - SIN DRM

Editorial:

INDEPENDENT DIGITAL EDITION

Lengua:

INGLÉS

Año edición:

2017

ISBN:

9781633390126
***Finalist in the First Eater Prizes as the best zombie novel of 2012. 
Degeneration is the best-selling short novel in the zombie category at Amazon Spain. 
Readers consider Degeneration to be controversial, impacting, moving, savage, heart wrenching, and sweet.  Do you dare experience this host of sensations in just a little over an hour's reading? 
SYNOPSIS: 
From the serenity of his home in a small village in Valencia, a family man is watching TV and sees live on screen the strange events that are unfolding on the streets of Madrid during a protest: those in attendance have gone mad and are attacking each other with extreme violence. From that point on, the protagonist's life changes forever. 
Degeneration is a story of survival after a zombie apocalypse that wont leave you out in the cold. An hour and a half of dramatic reading and non-stop action. A story chocked-full of feelings and challenges that is capable of turning your heart upside down and wringing it dry.  Will you make it to the end? 
18+ WARNING: This novel contains bloody and violent scenes that could be found disturbing by some readers. 
What others have said about Degeneration: 
"With a good dose of gore and social criticism, Degeneration makes good on its name and describes just that; its a testimony of the downfall of man as a society and a civilization. Without doubt, it's a story worth reading." Alejandro Morales (All Zombies Blog). 
"Degeneration sticks out from the hundreds of other similar stories that can be found online because of the liberty and un-censured nature with which the author describes the horror, crudeness, and dementia of the zombie world.   The ease with which the author conveys his message makes the reader feel first hand the desperation of the situation.  It is undeniable that the author has done his work very well and has been able instil in the reader the horror that he ima
Inseparables, comprar "DEGENERATION (EBOOK)" junto con:
Datos del producto
Editorial:

INDEPENDENT DIGITAL EDITION

Lengua:

INGLÉS

ISBN:

9781633390126

Año edición:

2017

Formato:

EPUB - SIN DRM
Resumen
***Finalist in the First Eater Prizes as the best zombie novel of 2012. 
Degeneration is the best-selling short novel in the zombie category at Amazon Spain. 
Readers consider Degeneration to be controversial, impacting, moving, savage, heart wrenching, and sweet.  Do you dare experience this host of sensations in just a little over an hour's reading? 
SYNOPSIS: 
From the serenity of his home in a small village in Valencia, a family man is watching TV and sees live on screen the strange events that are unfolding on the streets of Madrid during a protest: those in attendance have gone mad and are attacking each other with extreme violence. From that point on, the protagonist's life changes forever. 
Degeneration is a story of survival after a zombie apocalypse that wont leave you out in the cold. An hour and a half of dramatic reading and non-stop action. A story chocked-full of feelings and challenges that is capable of turning your heart upside down and wringing it dry.  Will you make it to the end? 
18+ WARNING: This novel contains bloody and violent scenes that could be found disturbing by some readers. 
What others have said about Degeneration: 
"With a good dose of gore and social criticism, Degeneration makes good on its name and describes just that; its a testimony of the downfall of man as a society and a civilization. Without doubt, it's a story worth reading." Alejandro Morales (All Zombies Blog). 
"Degeneration sticks out from the hundreds of other similar stories that can be found online because of the liberty and un-censured nature with which the author describes the horror, crudeness, and dementia of the zombie world.   The ease with which the author conveys his message makes the reader feel first hand the desperation of the situation.  It is undeniable that the author has done his work very well and has been able instil in the reader the horror that he ima
Valoración Media
Todavía no ha sido valorado
Recomendaciones usuarios
0

%

No ha sido todavía recomendado
Otros productos relacionados
Opiniones "DEGENERATION (EBOOK)"
No hay opiniones para este producto