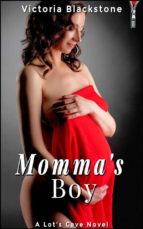 MOMMA'S BOY

EBOOK
Formato:

EPUB - SIN DRM

Editorial:

INC. LOT'S CAVE

Lengua:

INGLÉS

Año edición:

2017

ISBN:

9781370590889
DESCRIPTION
Maria is a pregnant housewife whose husband isn't taking care of her needs. Her son, however can't seem to take his eyes off of her, and his compliments, combined with his attention, are just what she needs to feel pretty again. Follow along as Jake learns how to take care of a woman.

EXCERPT
He smiled but, like my own, it faded fast as I tugged at his underwear. "Take these off."

I wrapped my fingers around his already hard cock. "So big," I murmured.

"Bigger than dad?"

I hesitated only a moment before nodding. "Not by much, but yes." He grinned. I squeezed him. "Don't let it go to your head."

I watched his face as I stroked him, slowly, gently, wanting it to last. His fingers were drawing little designs on my thigh and I caught his wrist and pulled him to me, releasing him once his fingertips made contact with my mound. I lowered myself down, turning, lifting my leg to make room for him, directing his cock head to my lips. I moaned around him as I began to suck.

While Ray and I hadn't had intercourse in at least five months, I had given him head, the last time being about a month ago, and while that experience was decidedly one sided, I knew, without doubt, that this experience would be just the opposite.

I moaned around his shaft as his fingers familiarized themselves with my most intimate place, his birth place. I moved further onto the bed when he pulled at me, and I shivered when I felt his lips on the inside of my knee. I continued to suck and lick at him, growing more and more aroused as his lips traveled up my thigh, and by the time he reached my labia, planted the first kiss on his momma's swollen vulva, I was a wet, trembling mess. The last thing I wanted to do was to take him out of my mouth, but more than I longed to have him there, I wanted to watch him as he took the first real taste of his mother's pussy.

I eased off of him and focused on his face, as I reached out to run my fingers through his hair. "Such a handsome boy."

He nipped at my thigh, a shy smile forming as his nose brushed against my lip. I shook my head as I reached down to pull myself open. "I'm messy, baby. Sure you want your face in there?"

He nodded, his eyes smiling. "You smell fantastic."

I ran my fingers through my groove, wetting them, then held them out for him, and I watched, breath held, as he took them in his mouth and sucked at them, his tongue slipping around and between them, making it hard for me to focus. He opened, releasing me. "More," he murmured.

I moaned as I went back for more, pushing two fingers into my heat, teasing my hole. I don't ever remember being so wet. I offered them to him again, and watched, transfixed, as he cleaned them off. It was the most erotic thing I've ever seen. He's a natural born pussy-licker. I could see in his eyes that he loves the taste and the scent of a woman.

I pulled my fingers from his lips and sent them into his hair, curling my fingers in it and pulling him into me. "Suck, baby."
Inseparables, comprar "MOMMA'S BOY (EBOOK)" junto con:
Datos del producto
Editorial:

INC. LOT'S CAVE

Lengua:

INGLÉS

ISBN:

9781370590889

Año edición:

2017

Formato:

EPUB - SIN DRM
Resumen
DESCRIPTION
Maria is a pregnant housewife whose husband isn't taking care of her needs. Her son, however can't seem to take his eyes off of her, and his compliments, combined with his attention, are just what she needs to feel pretty again. Follow along as Jake learns how to take care of a woman.

EXCERPT
He smiled but, like my own, it faded fast as I tugged at his underwear. "Take these off."

I wrapped my fingers around his already hard cock. "So big," I murmured.

"Bigger than dad?"

I hesitated only a moment before nodding. "Not by much, but yes." He grinned. I squeezed him. "Don't let it go to your head."

I watched his face as I stroked him, slowly, gently, wanting it to last. His fingers were drawing little designs on my thigh and I caught his wrist and pulled him to me, releasing him once his fingertips made contact with my mound. I lowered myself down, turning, lifting my leg to make room for him, directing his cock head to my lips. I moaned around him as I began to suck.

While Ray and I hadn't had intercourse in at least five months, I had given him head, the last time being about a month ago, and while that experience was decidedly one sided, I knew, without doubt, that this experience would be just the opposite.

I moaned around his shaft as his fingers familiarized themselves with my most intimate place, his birth place. I moved further onto the bed when he pulled at me, and I shivered when I felt his lips on the inside of my knee. I continued to suck and lick at him, growing more and more aroused as his lips traveled up my thigh, and by the time he reached my labia, planted the first kiss on his momma's swollen vulva, I was a wet, trembling mess. The last thing I wanted to do was to take him out of my mouth, but more than I longed to have him there, I wanted to watch him as he took the first real taste of his mother's pussy.

I eased off of him and focused on his face, as I reached out to run my fingers through his hair. "Such a handsome boy."

He nipped at my thigh, a shy smile forming as his nose brushed against my lip. I shook my head as I reached down to pull myself open. "I'm messy, baby. Sure you want your face in there?"

He nodded, his eyes smiling. "You smell fantastic."

I ran my fingers through my groove, wetting them, then held them out for him, and I watched, breath held, as he took them in his mouth and sucked at them, his tongue slipping around and between them, making it hard for me to focus. He opened, releasing me. "More," he murmured.

I moaned as I went back for more, pushing two fingers into my heat, teasing my hole. I don't ever remember being so wet. I offered them to him again, and watched, transfixed, as he cleaned them off. It was the most erotic thing I've ever seen. He's a natural born pussy-licker. I could see in his eyes that he loves the taste and the scent of a woman.

I pulled my fingers from his lips and sent them into his hair, curling my fingers in it and pulling him into me. "Suck, baby."
Valoración Media
Todavía no ha sido valorado
Recomendaciones usuarios
0

%

No ha sido todavía recomendado
Otros productos relacionados
Opiniones "MOMMA'S BOY (EBOOK)"
No hay opiniones para este producto