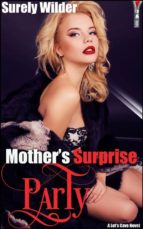 MOTHER'S SURPRISE PARTY

EBOOK
Formato:

EPUB - SIN DRM

Editorial:

INC. LOT'S CAVE

Lengua:

INGLÉS

Año edición:

2016

ISBN:

9786050429169
DESCRIPTION Tammy knows she needs a sexual release, but she never expected to be impregnated by her own son! When Tammy's best friend suggests a night of kinky sex to fulfill one of Tammy's secret fantasies, she can't help but yield to her taboo desires. In this latest erotic short from Surely Wilder, will this mother find her forbidden fantasy become a reality? EXCERPT Suddenly, I felt hands upon my hips and my body was being pulled down the mattress. It was so odd because as I was being pulled down yet I could feel the thighs of my lover on my cheek and I had never let go of his cock. I had no time to think of this though as my own passions were out of control. I had to know more about this amazing cock. I leaned over and quickly took him in my mouth. I actually heard my lover now with a muffled voice as he groaned, "OOOOHHHHH!!!!" "That's it mommy. Give your boy your special kiss," Sarah encouraged, and I did. His penis was amazing in so many ways. I pulled back and swirled my tongue on the huge mushroom head of his staff and was again inspired by the intoxicating potion of his pre-cum. He was delicious. I made my lips tight and poising above the head of his scepter. I pushed down allowing my jaw to open wide enough to accommodate his girth. His prick was huge and I was actually intimidated to realize that I had to open my mouth fully to get him inside. My god, I thought, how would I ever get him inside of me, he'd rip me apart. Still, I was beyond control now as I began pounding my lips wickedly upon his naked cock. His hands gripped my hair and pulled it back from my cheeks so that it wouldn't get in the way. I pulled off of him as I licked his pole up and down. Despite how turned on I felt, I had to get him lubed if I was going to fully enjoy his efforts. My actions pushed me to the point of no return. I needed his cock. I pulled off panting with desire and lay back. Suddenly, there was intense movement on the bed and I felt hands grabbing the waist band of my panties. My body reacted instinctively as I tilted my hips up and felt the fabric pull down my legs. There, I was completely nude and ready for sex. "You have a beautiful pussy Tammy. Isn't it beautiful, Luke?... Your son thinks your pussy is beautiful."
Inseparables, comprar "MOTHER'S SURPRISE PARTY (EBOOK)" junto con:
Datos del producto
Editorial:

INC. LOT'S CAVE

Lengua:

INGLÉS

ISBN:

9786050429169

Año edición:

2016

Formato:

EPUB - SIN DRM
Resumen
DESCRIPTION Tammy knows she needs a sexual release, but she never expected to be impregnated by her own son! When Tammy's best friend suggests a night of kinky sex to fulfill one of Tammy's secret fantasies, she can't help but yield to her taboo desires. In this latest erotic short from Surely Wilder, will this mother find her forbidden fantasy become a reality? EXCERPT Suddenly, I felt hands upon my hips and my body was being pulled down the mattress. It was so odd because as I was being pulled down yet I could feel the thighs of my lover on my cheek and I had never let go of his cock. I had no time to think of this though as my own passions were out of control. I had to know more about this amazing cock. I leaned over and quickly took him in my mouth. I actually heard my lover now with a muffled voice as he groaned, "OOOOHHHHH!!!!" "That's it mommy. Give your boy your special kiss," Sarah encouraged, and I did. His penis was amazing in so many ways. I pulled back and swirled my tongue on the huge mushroom head of his staff and was again inspired by the intoxicating potion of his pre-cum. He was delicious. I made my lips tight and poising above the head of his scepter. I pushed down allowing my jaw to open wide enough to accommodate his girth. His prick was huge and I was actually intimidated to realize that I had to open my mouth fully to get him inside. My god, I thought, how would I ever get him inside of me, he'd rip me apart. Still, I was beyond control now as I began pounding my lips wickedly upon his naked cock. His hands gripped my hair and pulled it back from my cheeks so that it wouldn't get in the way. I pulled off of him as I licked his pole up and down. Despite how turned on I felt, I had to get him lubed if I was going to fully enjoy his efforts. My actions pushed me to the point of no return. I needed his cock. I pulled off panting with desire and lay back. Suddenly, there was intense movement on the bed and I felt hands grabbing the waist band of my panties. My body reacted instinctively as I tilted my hips up and felt the fabric pull down my legs. There, I was completely nude and ready for sex. "You have a beautiful pussy Tammy. Isn't it beautiful, Luke?... Your son thinks your pussy is beautiful."
Valoración Media
Todavía no ha sido valorado
Recomendaciones usuarios
0

%

No ha sido todavía recomendado
Otros productos relacionados
Opiniones "MOTHER'S SURPRISE PARTY (EBOOK)"
No hay opiniones para este producto