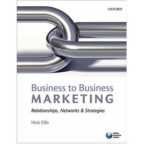 BUSINESS TO BUSINESS MARKETING: RELATIONSHIPS, NETWORKS AND STRAT EGIES
(En papel)
, 2010
Nº de páginas:

384 págs.

Encuadernación:

Tapa blanda

Editorial:

OXFORD UNIVERSITY PRESS

Lengua:

INGLÉS

ISBN:

9780199551682
This exciting new title provides a comprehensive introduction to the main theoretical and managerial issues of B2B marketing. It raises readers' awareness of the significance of B2B marketing in modern economies, in both local and global contexts. The book shows that B2B marketing is about managing the complex network of buying and selling relationships between organizations. The text includes detailed discussions concerning the role of individual managers and the organizations they represent; outlines possible managerial solutions to common B2B marketing dilemmas; and examines issues such as e-commerce in B2B markets, key account management and supply-chain ethics. Theoretical discussion is carefully interwoven with a series of long and short case examples. The text is organized in four parts. Part one - the organizational marketing context; part two - inter-organizational relationships and networks; part three - business marketing planning; and part four - business marketing programmes. A range of pedagogical features aid understanding: 'mini cases' from a variety of international contexts; 'voices' of practitioner talking about the problems they face; 'number crunching' boxes highlight how an organizations sales, profits, numbers of workers depend on successful B2B marketing; 'food for thought' boxes encourage students to think about the recommendations in the text; and longer case studies illustrate specific marketing issues. Online Resource Centre: Student resources: Additional cases with accompanying questions Web links Additional recommendations for further reading Lecturer resources: Teaching plans for different types of module/course delivery for PG and UG level Lecturer notes on how to best use the text and the online materials Suggested answers to end-of-chapter summary questions and further topics highlighted for discussion and debate. Comments on the book's cases and case questions. Comments include brief suggested answers and further topics related to the case for seminar discussion Downloadable PowerPoint slides including all figures from the text. Additional seminar/tutorial questions/exercises Additional assignment questions Additional examination questions
Inseparables, comprar "BUSINESS TO BUSINESS MARKETING: RELATIONSHIPS, NETWORKS AND STRAT EGIES" junto con:
Datos del libro
18.0x24.0cm.

Nº de páginas:

384 págs.

Editorial:

OXFORD UNIVERSITY PRESS

Lengua:

INGLÉS

Encuadernación:

Tapa blanda

ISBN:

9780199551682

Año edición:

2010
Resumen
This exciting new title provides a comprehensive introduction to the main theoretical and managerial issues of B2B marketing. It raises readers' awareness of the significance of B2B marketing in modern economies, in both local and global contexts. The book shows that B2B marketing is about managing the complex network of buying and selling relationships between organizations. The text includes detailed discussions concerning the role of individual managers and the organizations they represent; outlines possible managerial solutions to common B2B marketing dilemmas; and examines issues such as e-commerce in B2B markets, key account management and supply-chain ethics. Theoretical discussion is carefully interwoven with a series of long and short case examples. The text is organized in four parts. Part one - the organizational marketing context; part two - inter-organizational relationships and networks; part three - business marketing planning; and part four - business marketing programmes. A range of pedagogical features aid understanding: 'mini cases' from a variety of international contexts; 'voices' of practitioner talking about the problems they face; 'number crunching' boxes highlight how an organizations sales, profits, numbers of workers depend on successful B2B marketing; 'food for thought' boxes encourage students to think about the recommendations in the text; and longer case studies illustrate specific marketing issues. Online Resource Centre: Student resources: Additional cases with accompanying questions Web links Additional recommendations for further reading Lecturer resources: Teaching plans for different types of module/course delivery for PG and UG level Lecturer notes on how to best use the text and the online materials Suggested answers to end-of-chapter summary questions and further topics highlighted for discussion and debate. Comments on the book's cases and case questions. Comments include brief suggested answers and further topics related to the case for seminar discussion Downloadable PowerPoint slides including all figures from the text. Additional seminar/tutorial questions/exercises Additional assignment questions Additional examination questions
Valoración Media
Todavía no ha sido valorado
Recomendaciones usuarios
0

%

No ha sido todavía recomendado
Opiniones "BUSINESS TO BUSINESS MARKETING: RELATIONSHIPS, NETWORKS AND STRAT EGIES"
No hay opiniones para este producto