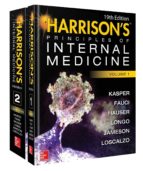 HARRISONS PRINCIPLES OF INTERNAL MEDICINE: VOL 1&2 (+ DVD)
(En papel)
, 2015
Nº de páginas:

3000 págs.

Encuadernación:

Tapa dura

Editorial:

MCGRAW-HILL

Lengua:

INGLÉS

ISBN:

9780071802154
The landmark text that has defined internal medicine for generations of clinicians and students - completely updated in two practical volumes.

Capturing the countless advances and developments across the full span of medicine, the new nineteenth edition of Harrison's Principles of Internal Medicine is completely revised providing an update of essential content related to disease pathogenesis, clinical trials, current diagnostics methods, evidence-based practice guidelines, and established and newly approved treatment methods.

Presented in two practical volumes, Harrison's new functional format is structured to allow readers to easily access information relevant to their specific needs.

Volume 1: Basic Principles and Cardinal Manifestations of Diseases covers essential foundational-level material underlying better patient care and assessment of signs and symptoms.
Volume 2: Disease Pathogenesis and Treatment is dedicated to specific disease and the best evidence-based approaches to their management.

The nineteenth edition features dynamic new chapters on established and emerging issues in clinical medicine and medical science, such as Men's Health, Lung Abscess, Fatigue, and more. Also included are supplemental resources that reflect and assist modern medical practice: 1,000 full-color photographs; hundreds of state-of-the-art radiographs; more state-of-the-art illustrations; the renowned Harrison's patient-care algorithms, essential summary tables, and practical demonstrative videos.

Harrison's editors provide critical updates to landmark chapters on key issues, such as HIV and AIDS, Cancer Biology, Introduction to the Immune System, Multiple Sclerosis, Kidney Dialysis, and Chronic Hepatitis, Coronary Artery Disease, Ebola Virus Disease, Multiple Sclerosis, Diabetes, Hypertension, Inflammatory Bowel Disease, Lipoprotein Disorders, and many more.

Harrison's DVD includes 130+ e-chapters. They provide deeper insight into essential medical education and clinical medical topics, in addition to offering these other outstanding features:

- Numerous step-by-step procedures performed at the bedside
- Hundreds of additional images from imaging and clinical pathology
- New videos covering important topics, such as sleep disorders, tissue engineering, and noninvasive cardiac imaging
Inseparables, comprar "HARRISONS PRINCIPLES OF INTERNAL MEDICINE: VOL 1&2 (+ DVD)" junto con:
Datos del libro
Nº de páginas:

3000 págs.

Editorial:

MCGRAW-HILL

Lengua:

INGLÉS

Encuadernación:

Tapa dura

ISBN:

9780071802154

Año edición:

2015
Resumen
The landmark text that has defined internal medicine for generations of clinicians and students - completely updated in two practical volumes.

Capturing the countless advances and developments across the full span of medicine, the new nineteenth edition of Harrison's Principles of Internal Medicine is completely revised providing an update of essential content related to disease pathogenesis, clinical trials, current diagnostics methods, evidence-based practice guidelines, and established and newly approved treatment methods.

Presented in two practical volumes, Harrison's new functional format is structured to allow readers to easily access information relevant to their specific needs.

Volume 1: Basic Principles and Cardinal Manifestations of Diseases covers essential foundational-level material underlying better patient care and assessment of signs and symptoms.
Volume 2: Disease Pathogenesis and Treatment is dedicated to specific disease and the best evidence-based approaches to their management.

The nineteenth edition features dynamic new chapters on established and emerging issues in clinical medicine and medical science, such as Men's Health, Lung Abscess, Fatigue, and more. Also included are supplemental resources that reflect and assist modern medical practice: 1,000 full-color photographs; hundreds of state-of-the-art radiographs; more state-of-the-art illustrations; the renowned Harrison's patient-care algorithms, essential summary tables, and practical demonstrative videos.

Harrison's editors provide critical updates to landmark chapters on key issues, such as HIV and AIDS, Cancer Biology, Introduction to the Immune System, Multiple Sclerosis, Kidney Dialysis, and Chronic Hepatitis, Coronary Artery Disease, Ebola Virus Disease, Multiple Sclerosis, Diabetes, Hypertension, Inflammatory Bowel Disease, Lipoprotein Disorders, and many more.

Harrison's DVD includes 130+ e-chapters. They provide deeper insight into essential medical education and clinical medical topics, in addition to offering these other outstanding features:

- Numerous step-by-step procedures performed at the bedside
- Hundreds of additional images from imaging and clinical pathology
- New videos covering important topics, such as sleep disorders, tissue engineering, and noninvasive cardiac imaging
Valoración Media
Todavía no ha sido valorado
Recomendaciones usuarios
0

%

No ha sido todavía recomendado
Opiniones "HARRISONS PRINCIPLES OF INTERNAL MEDICINE: VOL 1&2 (+ DVD)"
No hay opiniones para este producto